Before I get into this I saw this chart a while ago. This topic is controversial but I think statistics I saw shows that the majority is not always the most vocal part of the fandom and that includes every part of Supernatural. It goes to the other way too of course.
These pictures were very interesting in general because they show that Supernatural has male viewers (there goes that urban legend!) and the age frame where I belong to belongs to the minority too even if it's not the lowest. But these charts might explain why certain things are there at the show.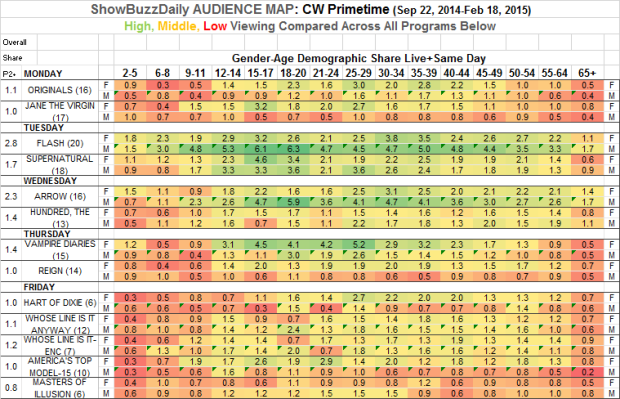 The chart above color codes the audience segments by comparing the viewing levels of all CW shows against each other and the chart below color codes the audience segments show by show.
http://www.showbuzzdaily.com/wp-content/uploads/2015/02/Audience-Map-CW-Prime-Fall-2014-Within-e1424410754265.png
Source:
Showbuzz, The AUDIENCE MAP: CW primetime
and this chart is cleaner and from:
Geekiary
So, what do you think about these charts? It does raise some questions and did at least for me. And of course a poll again.