Page 2 of 2
Catching Up with Former Behind the Scenes Staff
Todd Aronaur's got great news
Best Comedy of #NYTVF2016 goes to #PoorTodd - @lizastrof @adamshapiro @linzkraft @thecamillechen @NelsonFranklin @joliejenkins @sigirette pic.twitter.com/7DuINvQhrM

— Todd Aronauer (@TAronauer) October 30, 2016
Jerry Wanek gave us a scare
The night I spoke at SPN bar I was in congestive heart failure I have undergone successful valve surgery. Back soon. pic.twitter.com/xtPKfXKtoQ

— Jerry Wanek (@JerryWanek) November 2, 2016
Get better Jerry! We need your beautiful set design. It is part of what makes Supernatural, Supernatural.
What sort of direction were you given for the episode? (Were you given a concept to start with, or certain things that had to happen, or what?)

Most of the ideas are self-generated here and then bounced around, then ultimately shaped by our fearless leaders Andrew Dabb and Bob Singer. For this particular one, since it was my first, I was given a loose concept to write about: A rustic off the grid family that is dealing with this Supernatural phenomenon in their household, the rest was left to me to fill in. One thing that definitely had to happen was the guys needed to each be dealing with Mary's decision to break off for a while, and it needed to come from a genuine emotional place.
Robbie Thompson's comic series Spidey has published the series finale
In honor of Spidey's series finale coming out today, here are some of my favorite pages from the series #Spidey pic.twitter.com/WjPwDTIBpm

— André Lima Araújo (@erdna11) November 2, 2016
Robbie didn't rest on his laurels. He wrote the script for this trailer for Marvel Video Comics
#Spidey 12 (the thrilling series finale!) is in stores today -- big thanks and much love to everyone who worked on/supported this book! pic.twitter.com/iHLpwLbHmA

— Robbie Thompson (@rthompson1138) November 2, 2016
Adam Glass is finishing his Rough Riders Series.
Here is my last book of my first run on #RoughRiders @AfterShockComix on sale today at #LCS on #NCBD love this series. #SPN #CMBB pic.twitter.com/sLmKZkPSIr

— Adam Glass (@AdamGlass44) November 2, 2016
Here's this season's cast and crew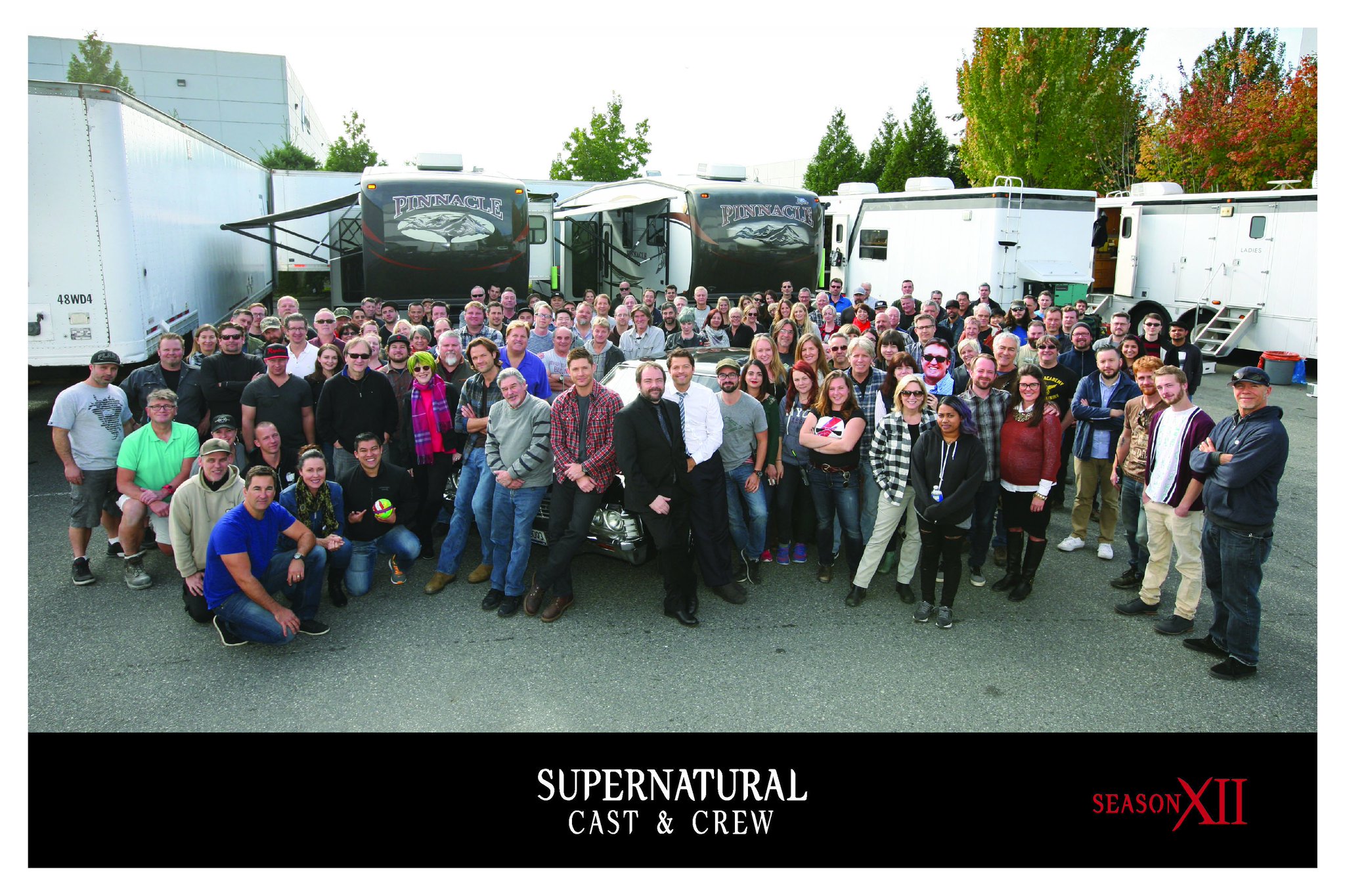 The Entertainment Weekly Popfest gave us insights into Supernatural and how much it is loved.
Season 12 is getting great reviews
#Supernatural S12 is currently Fresh at 100% ---> https://t.co/64wdqGoUNJ ? #Tomatometer @cw_spn @jarpad @JensenAckles

— Rotten Tomatoes (@RottenTomatoes) November 4, 2016
For those who supported SPNFanMovie, good news!
DVDs for the @SPNFanMovie will be shipping out in the next few weeks. Those fans who pre-ordered please make sure your address is correct. https://t.co/AhF5CfOplg

— Jason Fischer (@JasonFischer77) November 3, 2016
The DVD, Individual Episodes and the Digital Series & Feature will all be available very soon ---> https://t.co/IkBd8VSySU @KristinaZarco https://t.co/o4afxWVGMu

— Jason Fischer (@JasonFischer77) November 3, 2016
Conventions, Concerts, Fan Meetups
Rick Springfield continues to tour.
At rehearsals for the fan getaway next week at @Atlantisresort in the Bahamas! It's going to be amazing! pic.twitter.com/QFN7Tpqloh

— Rick Springfield (@rickspringfield) November 2, 2016
Returning to the @wildhorseTN in Nashville for 2 nights on Feb 10 & 11, 2017! https://t.co/vBXf4KSvpJ pic.twitter.com/P7u6gFzGNF

— Rick Springfield (@rickspringfield) October 20, 2016
Just Announced: New Buffalo, MI - Feb 17 at Silver Creek Event Center at Four Winds Casino New Buffalo https://t.co/UQimHmWrp4

— Rick Springfield (@rickspringfield) October 20, 2016