Live +7 Day Ratings
18-49
L+SD - 0.44
L+7D - 0.84
Total Increase 0.40
Percent Increase - +39.00%
Total Viewers
L+SD - 1.444M
L+7D - 2.411M
Total Increase - 0.976M
Percent Increase - 66.97%
18-49
L+SD - 0.4/2
L+3D - 0.7/3
Percent Increase - 75.00%
Total Viewers
L+3D - 2.161M
Total Increase - 0.717M
Percent Increase - +49.65%
18-49 - 0.4/2
Total Viewers - 1.41
That's quite a drop from the overnight numbers below. The CW was preempted in New York, other than that, I haven't seen any reason why the change was so large. Many shows were in repeat this week with only Supernatural, Legends of Tomorrow, Black Lightening, Arrow and and Life Sentence being new thus far. Of those shows, only Black Lightening beat us in the 18-49 demo and Legends of Tomorrow tied us in the same demo. Basically it was a bad week for the CW all around.
We did make the Nielsen top 5 in social media
Overnight Ratings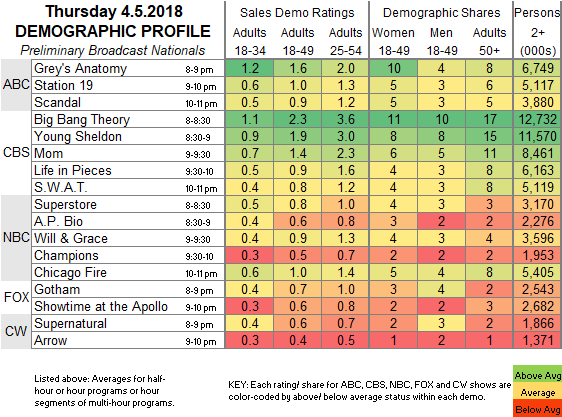 We fell a bit from last week's heavily anticipated episode.
TV Series Finale
shows the change.
For comparison, ratings for other episodes are
here