Page 2 of 2
Catching Up With Current and Former BTS Personnel
We have a return date and some spoilers for Eric Kripke's Timeless
Ready for some @NBCTimeless spoilers, #clockblockers.

Maybe I shouldn't....?

HELL YES I SHOULD. Get ready for Marie Curie, Hedy Lamar, Wendell Scott, the Salem Witch Trials, Robert Johnson and OH SO MUCH MORE.

Sunday, March 11, 10:00pm. Be there! https://t.co/IEjguiKbPa

— Eric Kripke (@therealKripke) January 23, 2018
We lost one of the family this week Cyrus Yavneh, producer for series 1-3 died. Condolences to his loved ones.
I'm sad today to write of the loss of another friend. Cyrus Yavneh started out as an assistant director on LOU GRANT, won a Christopher Award for BABY, and produced 24 and the first 60 episodes of SUPERNATURAL. He was the sweetest of men and superb at his job. That says it all. pic.twitter.com/QTPgyjle5d

— Jim Beaver (@jumblejim) January 25, 2018
Rest in peace, Cyrus Yavneh. If you all liked the pilot and first 3 seasons of #Supernatural, take a moment to think about Cyrus, because he was a big part of it. Thanks for everything, sir. #SPNFamily @jarpad @JensenAckles https://t.co/HhSFVHNsBJ

— Eric Kripke (@therealKripke) January 26, 2018
The final part of Adam Glass's Rough Riders series is scheduled to be released.
ROUGH RIDERS fans!!! The adventure continues with ROUGH RIDERS: RIDE OR DIE by @AdamGlass44 Patrick Olliffe @GabeEltaeb @salcipriano, the original creative team!!! Order using @DCD_Nexus Code DEC171030 today! #comicmarket #lcs pic.twitter.com/TXBMn6f3mb

— AfterShock Comics (@AfterShockComix) January 22, 2018
Adam says
So fortunate to get to tell the third and final chapter of this book. It's been a dream come true writing this. Please check it out. I'm bringing my #SPN influences to this story. https://t.co/omyHgYQI4d

— Adam Glass (@AdamGlass44) January 23, 2018
Conventions, Cast Appearances and Fandom
Want to attend a Supernatural Convention from your own couch? Stageit will be streaming live panels form the Seattle, Washington Convention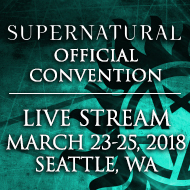 Panels include
For anyone in the CA area looking to redefine Valentine's Day make it our own and make it about sharing some kindness with friends, I'll be in Santa Monica gathering donations, sharing poetry, spreading love...all that hippie stuff I love to do. Love to spend the day with you! ? pic.twitter.com/GJwwlIMR1n

— Rachel Miner (@RachelMiner1) January 21, 2018
Lindsey McKeon will be at EyeCon
"Imagine a future moment in your life where all your dreams come true."

Some have said those moments happen at EyeCon #ReturntoTreeHill
Get tickets now at https://t.co/BbVJ5iv23n #onetreehill pic.twitter.com/nYdWViBl77

— EyeCon (@EyeCon3000) January 21, 2018
Purgatory 4:
Gil McKinney is going to give an amazing accoustic concert on Friday evening (June 1)!!! :)
Tickets for the concert will be available on Friday June 1 at the sales table at Purgatory 4 for 17,50 Euro :)
Entry to the concert is not included in ANY ticket. pic.twitter.com/LGFSt5Axjp

— Entertainment Events (@Ent_Event) January 20, 2018
Full band shows coming up!
Ticket info at https://t.co/YR9x6dFr7b or with the cool & free @Bandsintown app pic.twitter.com/OfK1Qk45QU

— Rick Springfield (@rickspringfield) January 25, 2018