Page 2 of 2
Catching Up With Current and Former BTS Personnel
Robbie Thompson
talks about
his upcoming Spiderman/Deadpool series.
Old Man Parker and Old Man Wilson!

January!https://t.co/t7218oUUpT

— Robbie Thompson (@rthompson1138) December 14, 2017
Adam Glass has a new Rough Riders series coming and talks about it
here
.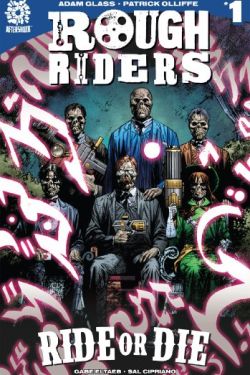 Showtime has released the pilot for Adam's new series The Chi on YouTube.
Supernatural made three of TV Lines EOY lists
Conventions, Cast Appearances and Fandom
A first time convention goer gives her thoughts on the D.C. convention in Con Review SUPERNATURAL D.C..
At some conventions you can get special Supernaturally themed drinks
Made it. #RowenasElixir pic.twitter.com/PRvfCZRzR1

— Ruth ♛ (@RuthieConnell) December 3, 2017
After a long absence we have a star returning to a convention
@samanthajferris We've missed you! We haven't forgotten that you gave us one of the first strong women on #Supernatural!
Can't Wait to see you again!#SPNFamily https://t.co/GFSSYCutXK

— WFB Supernatural (@WinFamBusiness) December 13, 2017
Don't miss!.....me at #vegascon with rest of #SPN #SPNFamily in February. I mean, REALLY.... I don't come out to play much. Git there. I'll be around fri & Sat, but think I'm doing a panel Thursday, too. ??❤️ @CreationEnt pic.twitter.com/WnCOXchKDm

— Samantha Ferris (@samanthajferris) December 10, 2017
She's back, b*tches! @feliciaday aka Codex from the Guild & Charlie from #Supernatural is coming to kick butt and sign things at #ECCC! Friday & Sunday tickets still available: https://t.co/8vKLHas6u0 pic.twitter.com/X0sFvF1oc9

— Emerald City Comic Con (@emeraldcitycon) December 13, 2017
Ok... take two... if you are coming to see @LoudenSwain1 & I in ATLANTA next month, and want to join us for brunch, tickets are available here: https://t.co/aRn1f9bc4C (sorry for the previous tweet that said NYC!)

— Jason Manns (@jasonmanns) December 15, 2017
Come party with me at our private & intimate 'Snake King' Album Release party Jan 26 in Los Angeles! (Limited to 125 tickets) Tickets available exclusively via @PledgeMusic at: https://t.co/Ioh636xk68 pic.twitter.com/N96kNYSnza

— Rick Springfield (@rickspringfield) December 13, 2017