Page 1 of 2
Supernatural in the news this week.
Catching Up With Current and Former Cast Members
Lindsey McKeon (Tessa the Reaper) has a picture coming out on The Hallmark Channel
IT'S NEVER 2 EARLY FOR ?CELEBRATE W US 12/4! @TamminSursok @abigailklein @johnbrotherton @BrentMBailey @UPtv #girlfriendsofchristmaspast #rt pic.twitter.com/3dQEVRJL6L

— Lindsey McKeon (@MyLindseyMcKeon) November 29, 2016
Lindsey also took part in a Mannequin Challenge
When Friends Visit From NYC @HeatherM_Music @TheAbbeyWeHo #Mannequinchallenge pic.twitter.com/OyMiy9pqhx

— Lindsey McKeon (@MyLindseyMcKeon) November 28, 2016
Adam Rose (Aaron Bass) is in a pilot for Amazon.
'Budding Prospects': Adam Rose To Star In Amazon's Pot Comedy Pilot https://t.co/bmatE7xKwv pic.twitter.com/DtTHpeqL4I

— Deadline Hollywood (@Deadline) November 30, 2016
Carrie Genzel (Linda Berman, Just My Imagination / Lynda Bloome, Bugs) was on the radio this week
I'm joining Carly on Daytime After Dark FRIDAY at 5pm PST / 8pm EST, listen & call in with your questions: https://t.co/NP1JTlodqT https://t.co/bGdjLFI1PF

— Carrie Genzel (@carrie_genzel) December 1, 2016
Carrie is also appearing in a movie on Up TV.
AMC's @carrie_genzel and GL's @LauraBellBundy play enemies in @UPtv holiday film Season's Greetings https://t.co/q0OYR7f1cY

— soapcentral.com (@soapcentral) December 3, 2016
Shoshannah Stern at the Nyle DiMarco Foundation Kicks Off Love And Language Campaign at the Sofitel
Travis Aaron Wade (Cole) is preparing for a new movie The Last Full Measure.
You can now see Travis' movie Blue Jay.
BLUE JAY released on iTunes tomorrow Dec 2, 2016 Shttps://t.co/jpJ39uMJ4V pic.twitter.com/OVWqkFHdLK

— Travis Aaron Wade (@TravisAaronWade) December 2, 2016
Emily Swallow (Amara) just finished a new movie Forget Me Not.
Lauren Cohan (Bela Talbot) made an appearance on The Late Show With Stephen Colbert
Tim Omundson (Cain) has been added to the Covers With Friends Release Party.
Of course we gave the bearded one an invite! & stoked2 welcome @Omundson him to the show! Other amazing guests soon! https://t.co/mVGGEEANXy https://t.co/k5xSMnIMBx

— Jason Manns (@jasonmanns) December 1, 2016
Here's a trailer for Kathryn Newton's (Claire Novak) new series on HBO Big Little Lies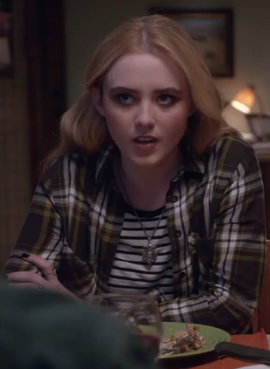 .@RWitherspoon. Nicole Kidman. @shailenewoodley. #BigLittleLies is coming to HBO. pic.twitter.com/YE1iOvOY3t

— HBO (@HBO) December 1, 2016
Colin Lawrence (Dr. Gregory Marion - Keep Calm and Carry on / Reggie Hull - Free To Be You and Me / Jason - Faith) also shared the trailer for the new production of Bridges, which he stars in.
Here's a little sneak peek! Enjoyed being a part of it!#beachesmovie #Lifetime #Lifetimemovie pic.twitter.com/c4eKNW5WnL

— Colin Lawrence (@colinlawrence97) November 30, 2016
For those who missed Osric Chau's series Dirk Gently, good news
Two more episodes of @DirkGentlyBBCA to go before it releases on Netflix worldwide! See you all next week! ?#DirkGently

— Osric Chau (@OsricChau) November 27, 2016
Kim Rhodes (Jodie Mills) just finished cosplaying Furiosa. Stardust and Memories caught it all and has published the gallery of her in the role.
Gallery is up with photos of @kimrhodes4real as Furiosa. Such an amazing experience so proud of how it turned out <3 https://t.co/SZWaxGzajz

— Stardust&Melancholy (@MelancholyPhoto) November 30, 2016
CBS will be running a segment on GISHWHES this Sunday
Louden Swain, Station Breaks and Kings of Con, all things Rob Benedict with a splash of Richard Speight, Jr.
Louden Swain released the next song from their new album.
#MusicMonday This week's #NewSwain is called "Roll Me Over". Listen & Share! Pre-order @iTunes & @amazon now! https://t.co/UejCTbdMxj

— Louden Swain (@LoudenSwain1) November 28, 2016
The Station Breaks are releasing a CD of their music.
Guess what? New @StationBreaks CD that's what!! Get yours at our CD release party Dec 19! Tix here: https://t.co/qrE6iIZcj5 pic.twitter.com/1YUefHCJWq

— Rob Benedict (@RobBenedict) December 1, 2016
Kings of Con got great coverage this week
From Nerds and Beyond
Rob and Richard also host aftershows for Kings of Con
#ICYMI: watch full episode of our aftershow #KingsofConversation here! https://t.co/cxZfsHhfDG @ComicConHQ @mattcohen4real @TheJoshMeyers

— Rob Benedict (@RobBenedict) December 1, 2016
Hit 'Next" for more news.